Become a Nebraska No Kill Canine Rescue Foster today!
We're looking for volunteers who can provide temporary homes to dogs until they are adopted. This is key to our ability to rescue dogs — the more foster homes we have the more dogs we can save. We will provide the medical care, food costs and can supply you the things needed to care for the dog. You provide the TLC and help get the dog ready for his/ her permanent home.
 Online Foster Application Form
If you are able to foster, please email us at info@nebraskanokill.org. If you know of someone who may be interested, please pass along our email address - info@nebraskanokill.org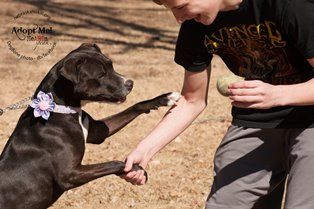 NEBRASKA NO KILL CANINE RESCUE - FOSTER INFORMATION 
Thank you for contacting NNKCR about fostering a rescue dog. We really need your help! NNKCR will provide all veterinary care (must be pre-approved for non-emergency care) and possibly food if donations are available, and you will provide training and a loving home environment. The dog needs to be kept inside, and treated as a member of the family. Please be patient with your foster dog(s). Many have come from situations where they have never known to depend on humans for love and comfort. While they crave this love and comfort, they may not know how to go about getting it. They must learn how to behave in the way we want them to. All of our dogs are extremely grateful to have been given a second chance at life, and we feel they deserve to live a life filled 
with love and happiness. 
NNKCR is responsible for finding a home for the dog, and the foster family must not place him/her in a home that has not been through the NNKCR adoption process. We do, however, appreciate all help you can give us to find an appropriate home. If you have someone interested in your foster dog, have them email NNKCR at info@nebraskanokill.org. 
While NNKCR will make every effort to help match you with a safe and nondestructive dog, they are living creatures and thus unpredictable and we cannot be held responsible for any damage to either person or property caused by the foster dog. NNKCR will ensure that the dog is current on vaccinations and has been treated for parasites if any are found, but as with any dog, we cannot guarantee that it will not have any ailments or undetected parasites. It is important that the foster family observe all dogs in the household for any abnormal stools, weight loss or behavior that may indicate an illness and report back to NNKCR if anything is noticed. 
Responsibilities of the Foster Parent: 
1. Provide a safe, loving environment for the dog. 
2. Socialize the dog properly. 
3. *Ensure that heartworm and flea/tick preventative is administered monthly. 
4. Observe how the dog acts in different situations, and with different people and animals. 
5.**Work with the dog on *basic commands (sit, lay down, stay and no) and manners. 
6.**Walk the dog on a leash (in a secure area) if there are concerns of escape. 
7. Notify NNKCR of any concerns about health or behavior immediately. 
Complete the foster application.
  *NNKCR will provide heartworm and flea/ tick preventives. If you run out, please request more. 
**NNKCR has resources to coach you in how to train a dog if you have never trained one. If your schedule permits, NNKCR would pay for obedience classes for your foster dog if it is needed. This is a great way for you to learn training skills, socialize the dog and expose the dog to possible adopters.